FLEXSOLAR Won Purchase Orders in "Into the Blue: Lowe's Product Pitch Event"
As a qualified entrepreneurship team, FLEXSOLAR participated in the "Into the Blue" live event on November 2, 2022, and won purchase orders from Lowe's plans to invest $5 million into new suppliers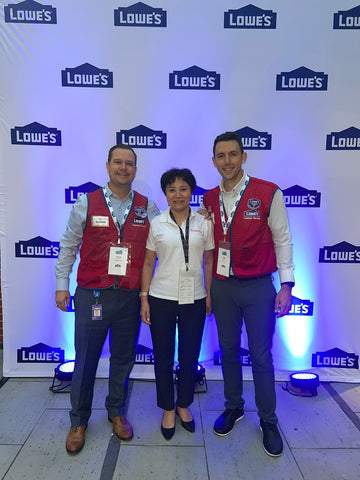 Lillian Wang(middle), founder of FLEXSOLAR, and Lowe's representatives
Lowe's Companies, Inc., a FORTUNE® 50 home improvement company, has its related businesses operate and service nearly 2,200 home improvement stores and hardware stores, and employs over 300,000 associates. On July 26, Lowe's launched "Into the Blue: Lowe's Product Pitch Event", inviting businesses of all sizes and operations to apply for a chance at its largest and most impactful product pitch live event, through which Lowe's plans to invest a target of $5 million in purchase orders.
The selected businesses will have the opportunity to become Lowe's suppliers and have their products reach more prospective buyers. According to Bill Boltz, executive vice president of merchandising at Lowe's, this event aims to uncover innovative products and to enable Lowe's to offer more solutions to it's customers, improving people's quality of life.
Sharing a similar vision, FLEXSOLAR strives to offer people a more sustainable life with smart energy solutions. Over the years, FLEXSOLAR has developed versatile portable solar products that bring mobile living, off-grid power, and outdoor recreation to life. FLEXSOLAR is ready to cooperate with Lowe's and constantly seeks innovations to deliver off-grid solar solutions that meet the needs of outdoor life and to improve the mobile living experience.  
About FLEXSOLAR
FLEXSOLAR, a solar solution provider based in Austin, TX, is committed to delivering flexible, portable, and highly efficient renewable energy products to meet the growing power needs. With attention to quality, efficiency and portability, our solar products have the toughness to keep up with outdoor adventurers and the flexibility to adapt to life on the road, campsite, or trails. Through harnessing the power of the sun, our products can charge everything from smartphones and laptops to RVs and cars, to tiny homes and marines, so users can explore the world without limits. Visit flexsolarenergy.com to explore more about our solar solutions.
For product information contact FlexSolar at 1-800-620-1249 or via email at sales2@flexsolarenergy.com