With built in kick stands, the panel is easy to set up in seconds. When folded out, the large 48in x 27in surface can gather sunlight on even the cloudiest of days. Of course, the panels work best in optimal sunlight. When folded down the kit is about 24in x 27in, weighs only 11 pounds and can easily be carried by the built in handle. Included in the kit are:
• 100 W Foldable Solar Panel
• 2 built in kickstands
• 10-in-1 Interchangeable connectors, for various device configurations
• 1-foot-long DC 5521 to Alligator Clip
• 10-foot-long cable with DC5521 Male Connectors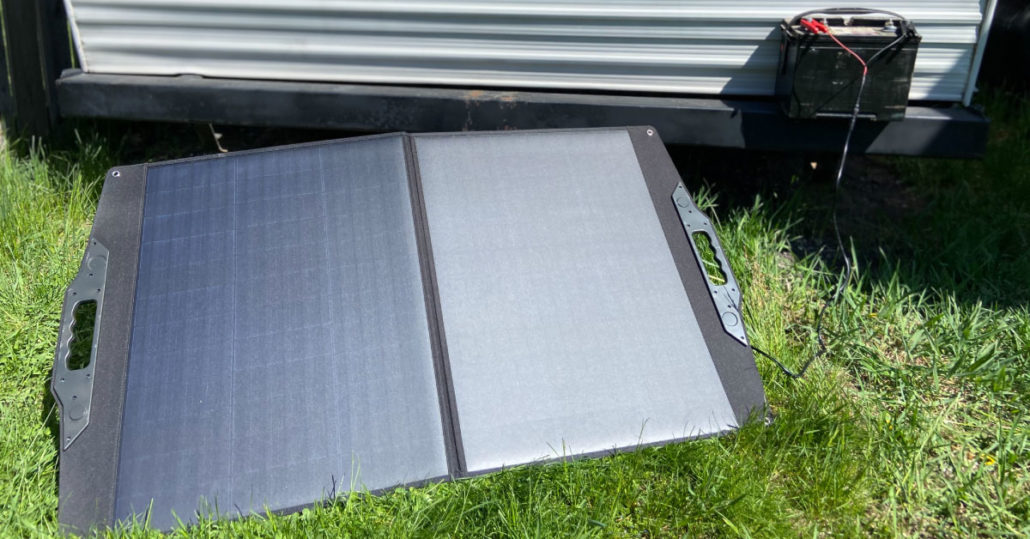 As an avid outdoorsman, I try to take the family camping multiple times a year. The FlexSolar 100W folding solar panel is perfect for these trips. Especially when rustic camping without power hookups. As I started to prepare the camper for this year's camping season, I pulled out the spare battery. I hooked it up to my battery charger and saw it was only at 47%. I then hooked it up to the Flexsolar panel using the 1-foot Alligator Clips and the 10-foot-long DC5521 cables. I left it for about two and a half hours. The battery was over 90% when I returned. The packaging nor the website listed RV batteries as an option to charge using 100W panel. However, I see no reason why, on an off grid or rustic camping trip, you couldn't just set out the FlexSolar panel during the day to recharge your camper or RV batteries. Flexsolar also has RV Charging systems and larger higher wattage solar panel suitcases, which likely could charge a large battery quicker. However, as mentioned, I was very satisfied with how well the 100W foldable panel charged my RV battery.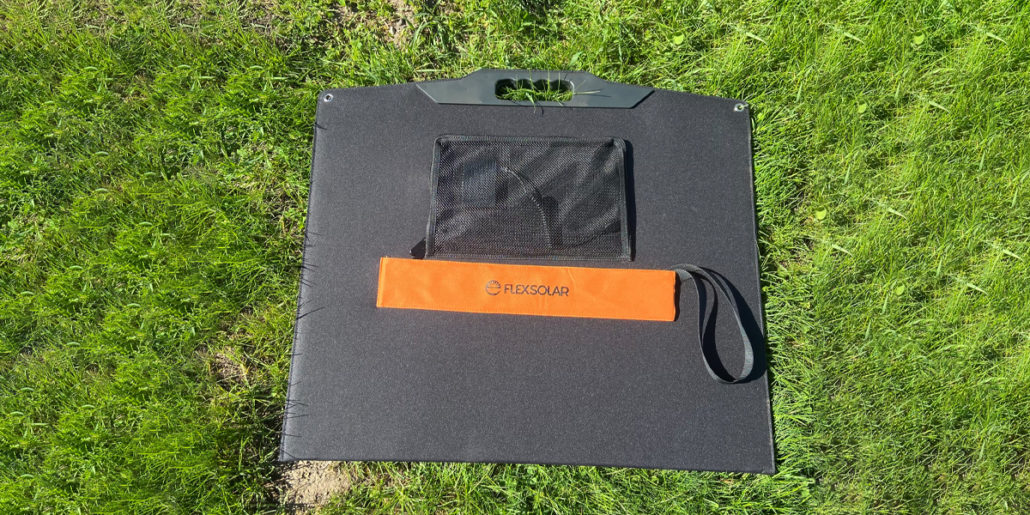 The panel also has a USB port on a coiled stretchable cable. I was able to charge my sons tablet at the same time as charging the camper battery. In less than hour my sons tablet battery went from 7% to 67% while hooked up to the panel. With multiple ports and the 10-in-1 interchangeable connectors, one could charge just about any device with the FlexSolar 100W Foldable Solar Panel.
FlexSolar has a wide range of solar charging products ranging from a small 10W panel that retails for $39.99 (which can fit in a backpack) to a large 200W solar brief case that retails for around $370. Suggested retail on the 100W Foldable Solar Panel is just $189.99. To view their full line of solar charging, and power storage products, visit www.flexsolar.com. Odds are you'll find solar products that fit the outdoor, camping or survival section of your store. For wholesale pricing and inquiries contact Lillian@flexsolarenergy.com or call 512-203-1789 and make sure to mention you read this review in ST Magazine!