It is always enjoyable to go outdoors and take a break from the cumulative stress. However, dead electronic devices could ruin your day. You can't keep connected, use the GPS or take photos. To get rid of this painful situation, a portable solar charger is answer. 
The portable solar charger is a device that generates electricity when exposed to sunlight. It provides power for your devices without the need to find a power source. Everything from mobile phones to headphones, speakers, cameras, and even laptops can be charged via a portable solar charger. If you're someone who loves outdoor activities, you definitely need to have a portable solar charger in your backpack.
Easily Portable
Portability is one of the great benefits of a portable solar charger. Most of them in the market nowadays are designed to be foldable with hiking buckles, so you can bring them wherever you go. Like the FLEXSOLAR40W portable solar charger , it can be folded down to the size of a laptop and weigh less than a camping tent. They can easily slip into your backpack or attach to the tent. For hikers, size and weight would be a big issue because you don't want your load to be too heavy. With such a portable solar charger, that's never a problem.
Figure 1: Portable solar panel attached to the backpack
Durable 
The portable solar chargers use durable material. For example, the FLEXSOLAR portable solar chargers employ ETFE film that provides longer durability and less maintenance compared to PET used by many other panels. This water-resistant material help to avoid damage in the rain or wet flog, making it ideal for unpredictable weather and harsh environments. Besides, the folding design keeps the panel closed during unused days with additional rubber covered on the charging ports, which helps to reduce wear and tear and prolong its service life.
Widely compatible
Portable solar chargers are available with wide compatibility. These are useful to charge small electronic gadgets such as mobile devices, headphones to cameras, and laptops. Most recent solar chargers come with a USB-A port so they are compatible with various USB-powered accessories. DC connector is included for higher power demands such as laptop computers. Some may also feature an additional USB-C port for backward compatibility like this 40W portable solar panel. And charging state is typically indicated through LED lamps. With different charging ports, you are able to charge multiple devices simultaneously while being reassured by the built-in IC chip that can detect a connection and power on automatically and protect your devices from overheating or overcharging.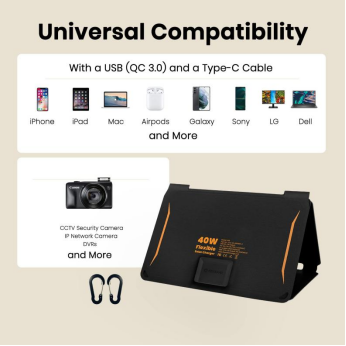 Figure 2: Compatibility of FLEXSOLAR 40W portable solar panel
Reliable and Flexible
Being flexible is a strong feature of portable solar chargers, which provides a reliable source of power without being restricted to a particular place. As long as you have access to the sun, you are allowed to keep your devices charged anywhere. You can go to the mountains, deserts, and beaches, only taking out your panel in the sun. With the portable solar charger, you would be free from the concerns of running out the batteries.
Sustainable and Eco-friendly
There is no doubt that green energy is the way forward. Unlike coal, oil, natural gas, and other fossil fuels, solar panels obtain energy only from the sun while consuming no fuels and giving off no waste. It provides clean and renewable energy that can not only meet our power needs but contributes to energy conservation and environmental protection. It plays a key role in de-carbonizing the global economy alongside limiting the effects of climate change. If you start by investing in a portable solar panel, you're already reducing your carbon footprint and helping protect our planet for future generations.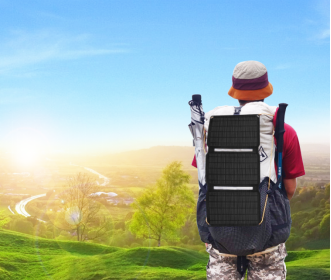 Figure 3: Portable solar panel attached to the backpack
Bottom Line
A portable solar charger is one of the essential items to bring while exploring the great outdoors. It is particularly helpful as they enable your devices to be charged on the go. It can keep you and your devices running especially during emergencies. Whether you need power for your smartphones, tablets, laptops, or cameras, portable solar chargers have you covered. All you need to do is take out the panel and make it exposed to sunlight. With a portable solar charger, outdoor ventures would be hassle-free without worrying about where to charge your devices.